Appraisals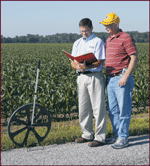 For many years, the Halderman Companies have provided appraisals specifically for farms. Today, more than 700 appraisals are performed each year by Halderman experts. Many families, individuals, attorneys, financial institutions and investors make up our list of appraisal clients. Halderman's certified and accredited appraisers can perform appraisals for a myriad of reasons, including:
Loan evaluation
Estate evaluation
Sale
Condemnation proceedings
Conservation easements
Purchase considerations
Division of property among family members
Other situations where a market value appraisal is needed
Appraisals are presented to each client in written form and can range from a market valuation to complete, detailed report. Additionally, Halderman Real Estate Services, Inc., has staff members who are certified general appraisers to meet certain federal appraisal guidelines in loan evaluation situations.
Do You Need An Appraisal?