Rain, Rain…and More Rain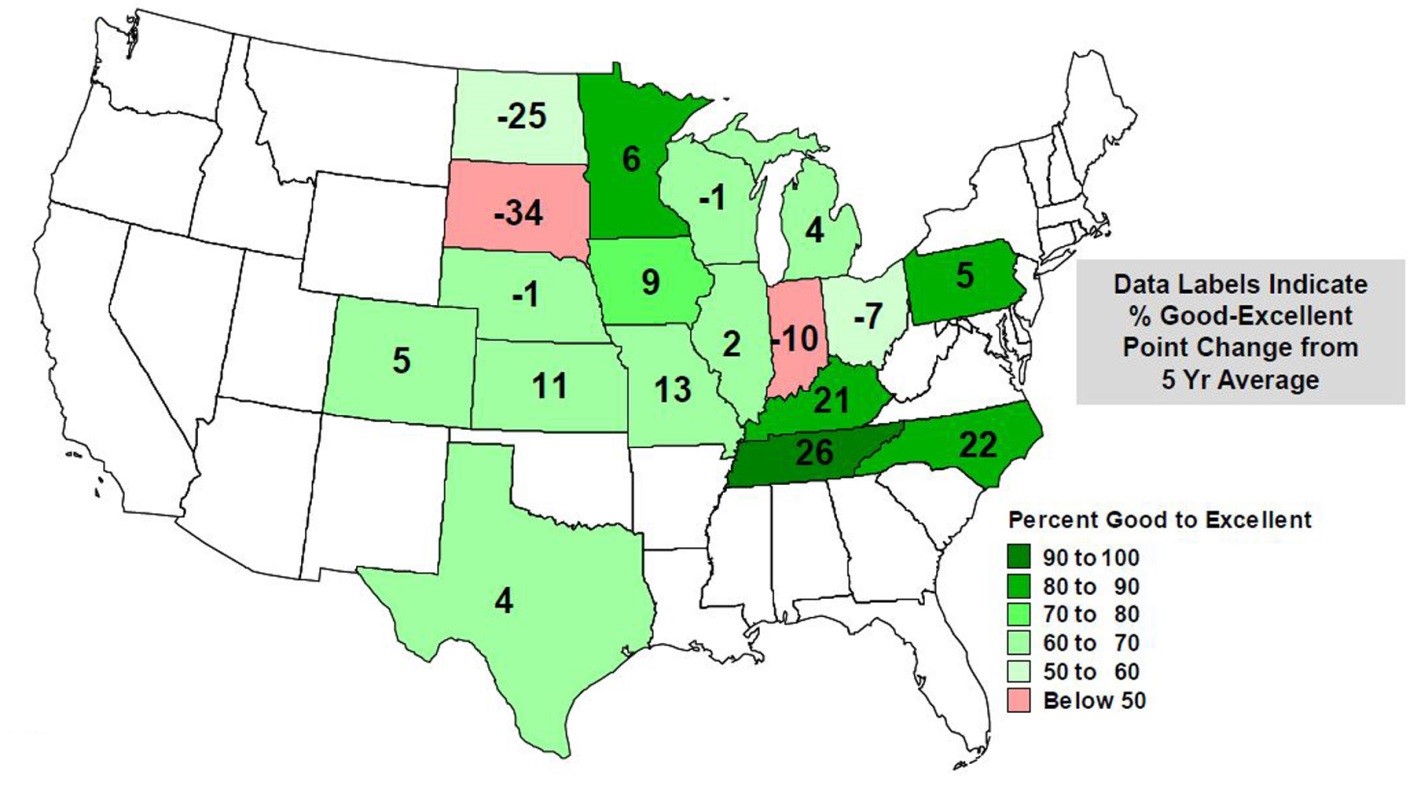 Mother Nature has not been kind to many portions of the Eastern Corn Belt and Central Indiana over the last several months.  Many areas have just been too wet.  Persistent heavy rains slowed down planting in May.  In fact, many fields had to be replanted due to excessive rain.  It is not uncommon to see replanted cornfields nearly everywhere you turn and hear stories of farmers having to replant cornfields and/or low areas 1-3 times.  Several soybeans fields had to be replanted as well in Central Indiana.  Experts expect that 2017 will show historic levels of replanted crops in Indiana.  On the farms we manage in Central Indiana, most have received anywhere from 22 to 29 inches of rain since April 1st.  These amounts are 5-10 inches above the 5-year average.  Additionally, much of the precipitation has come in large rain events, with many of the farms seeing over 1.5 inches of rain at once at least 6-10 times during this timeframe.  Our neighbors to the north in North Central Indiana haven't fared much better.  In fact, some of these areas have seen even more heavy rains.  Needless to say, most areas could use a little drier weather to help the growing crop in the coming weeks.
Not all of the Midwest has seen all this rain though.  While Indiana and parts of the Eastern Corn Belt have seen excessive rains, most of the corn crop across the Midwest looks very good and has benefited from timely rains.  This is especially true in Iowa, Minnesota, and Nebraska.  The figure below, courtesy of DuPont Pioneer Global Economics, shows these states all have better than average corn crop conditions.  Indiana, unfortunately, is currently rating 10 points below the 5-year average for corn condition with only 48% of the crop rated at good to excellent.  The unfortunate aspect for Indiana farmers is that the corn crop looks pretty good in the other major corn states.  Illinois, Nebraska, Iowa, Minnesota all have corn ratings that are 63%, 68%, 77%, and 80% good to excellent respectively.  Additionally, the U.S. as a whole currently rates at 65% good to excellent.  Soybeans in Indiana are faring a little better than corn, with the current soybean rating at 50% good to excellent.  However, this is still 4 points lower than the 5-year average and the lowest rating of the major soybean states.  Furthermore, it is well below the current U.S. soybean rating of 62% good to excellent.
Mother Nature, please be a little more kind to the Hoosier Farmers!
U.S. Corn Crop Condition as of July 10th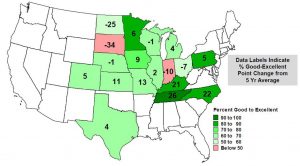 Source: USDA/NASS Crop Progress Report courtesy of Pioneer Global Economics