What is the farm worth? What is a fair release price?
Farmland values vary widely based on a farm's location, quality, type, layout and reputation.  Many universities and on-line sources provide information on farmland values that can be a helpful guide and give you an indication of what a property might be worth.  However since each property is unique having an expert who specializes in farmland sales and appraisals provide you a valuation is always the best decision so that you have an accurate opinion.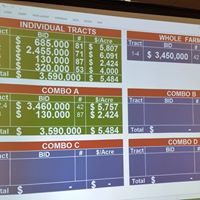 A fair release price is best determined toward the end of a marketing window, when much of the interest in the property is known.  Typically this will fall toward the lower end of the range of fair market value, but again it varies with each property and selling situation.  The key is to make sure your release price is realistic and once reached is used as a catalyst to your sale. Our experience at auction is that once a farm eclipses the release price and the announcement is made that the farm will sell the bidding continues upward.  We help all of our sellers determine the release price immediately before the auction.