Why does a corn planter cost so much?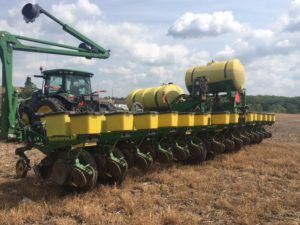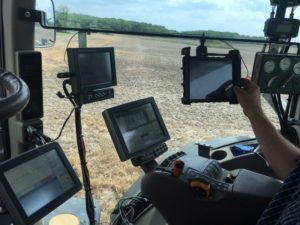 Most of our Halderman farm operators use 16 or 24-row planters which are used for corn and sometimes soybeans. Many operators have a separate planter for soybeans enabling them to plant both corn and soybeans at the same time. There was a time when corn was planted first, then soybeans. Now University research and practical experience has shown planting soybeans as soon as possible increase yields.
A new 16-row corn planter, with all desired features, may cost from $250,000 to $300,000. A 24-row planter is approximately 25% more. The main component of the planter consists of the steel frame that folds for highway travel. This operation is done from the tractor seat. There are plastic seed boxes, furrow openers, stainless steel tanks for fertilizer and plastic tanks for insecticides/herbicides. The electrical, hydraulic and monitoring components costing $100,000 and are included in the purchase price.
The monitoring components measure seed drop (27,000 to 35, 000 seeds) per acre in each row. Seed placement can be observed from a screen in the tractor cab. A typical tractor cab may have 4 screens (monitors) including the operator's IPad to record and adjust seed placement. Upon completion, the operator can print out a colored map of the field. If different varieties of seed are planted in the same field, the monitor will show this on the map; this data will be transferred to the combine for harvest. Yield results can then be measured. The operator's tractor will have auto-steer guidance from satellite eliminating the need for 'markers' used for straight rows. Operators comment they are much less tired at the end of a 10-12 hour day with the auto-steer.
Many operators are avoiding all tillage since last harvest with their No-Till planters. No-till requires additional attachments at an additional cost to purchase price. The goal is to prepare the seed bed approximately 6" wide without disturbing the soil between the rows. The seed may be placed at 1 ½" in depth with one or two placements of fertilizer 2" off to the side of the row. Sometimes 'Pop-up' fertilizer, a diluted solution that feeds the seedling the first three weeks of growth, is placed slightly above the seed.
Why spend such a large amount of money on planting equipment? Field trials and experience have shown maximum yields are a result of near perfect germination and plant growth. Also, some of today's new planters can be operated at 7 to 8 miles per hour rather than the 4 to 5 miles per hour of yesteryear. Typical planting rates are 20-25 acres per hour for 16-row planter and 35 acres with a 24-row planter. Large fields improve efficiency. These fields usually command a higher rent per acre and selling price.
After 2 weeks of use, the planter is parked for the year. A 70 year old lifetime farmer informed me he has learned more about advancements in corn planter technology in the last 5 years than he did his first 50 years of farming. It amazes me the ability of young farmers to learn and operate this technology.
Larry Smith
Laporte, IN
219-362-4041
larrys@halderman.com