Why Halderman's
Halderman Farm Management Service, Inc. was founded in 1930 in Wabash, Ind., by Howard H. and Marie Halderman. They started the business in their home, vowing "To do for your farm what you would do if you had the time and the experience."
Business grew, as did the staff. Area representatives began handling responsibilities throughout regions in Indiana, Illinois, Michigan and Ohio. In 1958, Howard and Marie's son, Robert, joined the Halderman Farm Management team. Upon Howard's death in 1964, Robert assumed the position of president.
In 1988, the addition of Robert's older son, Howard, marked the beginning of a third generation of family management and ownership. To extend the real estate services, in 1990, Robert and Howard founded Halderman Real Estate Services, Inc., a sister corporation to HFMS, having the same management and employees.
In 2010 Halderman expanded into the farmland asset management business, which led to the creation of Halderman Real Asset Management, LLC (HRAM) in the spring of 2013. Today, Robert Halderman serves as chairman of the companies. Howard is the CEO of the Halderman Companies, specifically president of HFMS, HRES and HRAM. Pat Karst is the Vice President of Real Estate and David Martin is the Vice President of Asset Management.
From two people, one client and a hand-full of farms to manage, the Halderman companies have steadily grown to 40+ full- and part-time staff members managing 550+ farms, selling and acquiring over 150 properties and performing over 700 appraisals annually. It is now one of the largest family-owned professional farm management and real estate organizations in the United States, and that is the reason they say, "If it has anything to do with the business of farming, Halderman Can Help!"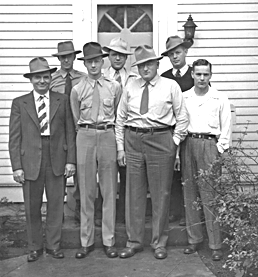 Members of the Halderman Farm Management team in 1947 were(front row, L to R) Clyde May, Robert Neisham, Howard H. Halderman, Wally Jones (back row, L to R) Martin Underwood, Art Haist and Morris Akers. This photo was taken in front of the original office located in Howard H. and Marie's home at 197 E. Main St., in Wabash.